SUBMERSIBLE MOTOR AND PUMP COUPLINGS
Submersible Motor Engineering Rigid One Piece Shaft Couplings for Submersible Motors are available with the options of NEMA Splines and keyed shafts, manufactured in 316 Grade Stainless Steel(UNS S31600), as standard. More exotic materials are also available such as Monel. A large number of Standard sizes are available in straight and step bore combinations to fit shafts ranging from 3/4″ to 3″, Splines to suit NEMA 6" and 8" are available .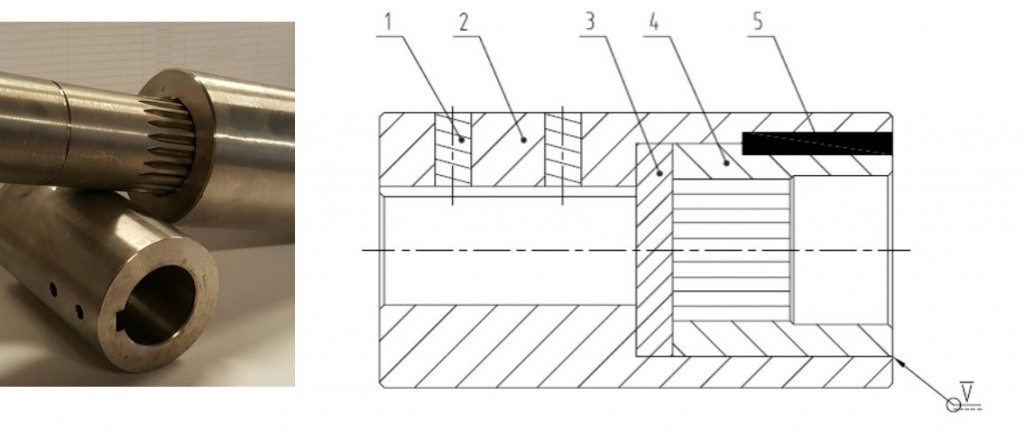 The one-piece rigid coupling wraps around the shaft, providing high torsional holding power without the shaft damage and fretting inherent when set screw style couplings are used.
The benefits of using rigid shaft couplings include their economy, high torque capacity, and zero backlash. Rigid couplings are suitable for applications when misalignment is neither present nor desired, including connecting line-shafting or attaching a submersible motor to a pump.
Motor Shaft
Pump Shaft "
Key "
Part Number

6″ NEMA Spline

   3/4

3/16 x 1/8

5-250-0001

6″ NEMA Spline

13/16

3/16 x 1/8

5-250-0002

6″ NEMA Spline

   7/8

1/4 x 3/16

5-250-0003

6″ NEMA Spline

15/16

1/4 x 3/16

5-250-0004

6″ NEMA Spline

1

1/4 x 3/16

5-250-0005

6″ NEMA Spline

1

1/4 x 1/4

5-250-0006

6″ NEMA Spline

1   3/16

1/4 x 1/4

5-250-0007

6″ NEMA Spline

1   3/16

5/16 x 5/16

5-250-0008

6″ NEMA Spline

1   1/4

5/16 x 5/16

5-250-0009

8″ NEMA Spline

   3/4

3/16 x 1/8

5-250-0075

8″ NEMA Spline

   7/8

1/4 x 3/16

5-250-0088

8″ NEMA Spline

1

1/4 x 1/4

5-250-0100

8″ NEMA Spline

1   3/16

1/4 x 1/4

5-250-0119

8″ NEMA Spline

1   3/16

5/16 x 5/16

5-250-0120

8″ NEMA Spline

1   1/4

1/4 x 1/4

5-250-0125

8″ NEMA Spline

1   1/4

5/16 x 5/16

5-250-0126

8″ NEMA Spline

1   1/2

3/8 x 3/8

5-250-0150

1.9375″ 1/2″ Key

Various

2.754″ x 5/8″ Key

Various

3.937″ x 1.1024″ Key

Various