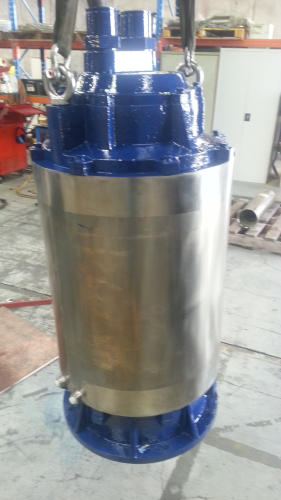 SME design and manufacture a range of Water Cooled Electric Motors to provide a alternative to Standard Air Cooled Vertical Hollow and Solid Shaft Motors,these motors are for variety of line shaft turbine applications. The removal of the forced air cooling and replacement with a water jacket fed from the discharge of the pump ensures almost silent operation. This makes them uniquely suitable for pumping applications where noise is critical during operation. SME motors are robust and reliable in the toughest of environments. Our flexible design capabilities mean we can manufacture Water Cooled Motors to suit most applications. Our range of motors include Flexible Interface Dimensions to suit all requirements and provide the possibility of "Drop In'' replacement motors.
We offer a variety of Construction Materials from Cast Iron, SS316 Grade Stainless Steels as Standard to Exotic Stainless Steel Alloys to ensure long term reliability in varied environments whilst still offering the advantages of excellent performance.
Motors can be offered with a variety of Interfaces for a broad range of Pump types — from Standard NEMA P Base and IEC frames to unique Flange and shaft arrangements.
SME can provide Water Cooled Motors with robustly engineered bearing arrangements to ensure pump thrust loads are absorbed adequately to guarantee long term operation.
SME can design and manufacture from the "Lamination Up" to ensure the Motor is ideally suited for the application. This bespoke Manufacturing policy ensures we can meet any special design requirements. SME can build motors from small Kilowatt Motors right through to large outputs in the Megawatts and above to ensure we meet all requirements.
SME Submersible Motors can be manufactured in all voltages from 110V through to 6600V at 50Hz or 60Hz, or for use with Variable Speed Drives. Due to SME's flexible manufacturing systems we can offer motors in water or oil filled constructions. Motors can be provided for internally balanced or header tank installations.
SME's extensive testing facilities ensure we can test these Water Cooled Motors at rated Voltage and Frequency. This testing can also involve Hydraulic Performance testing on a customers pump in our Test tank. Full string testing involving the Drives, Control Gear, Motor and Driven equipment can also be organised.
Submersible Motor Engineering's extensive Service Capability also ensures we are the best location for Service and Refurbishment of Water Cooled Motors of any manufacturer. Quite often SME can return motors to their clients in a better than new condition due to our ability to implement the latest Engineering Practices into the repair process.